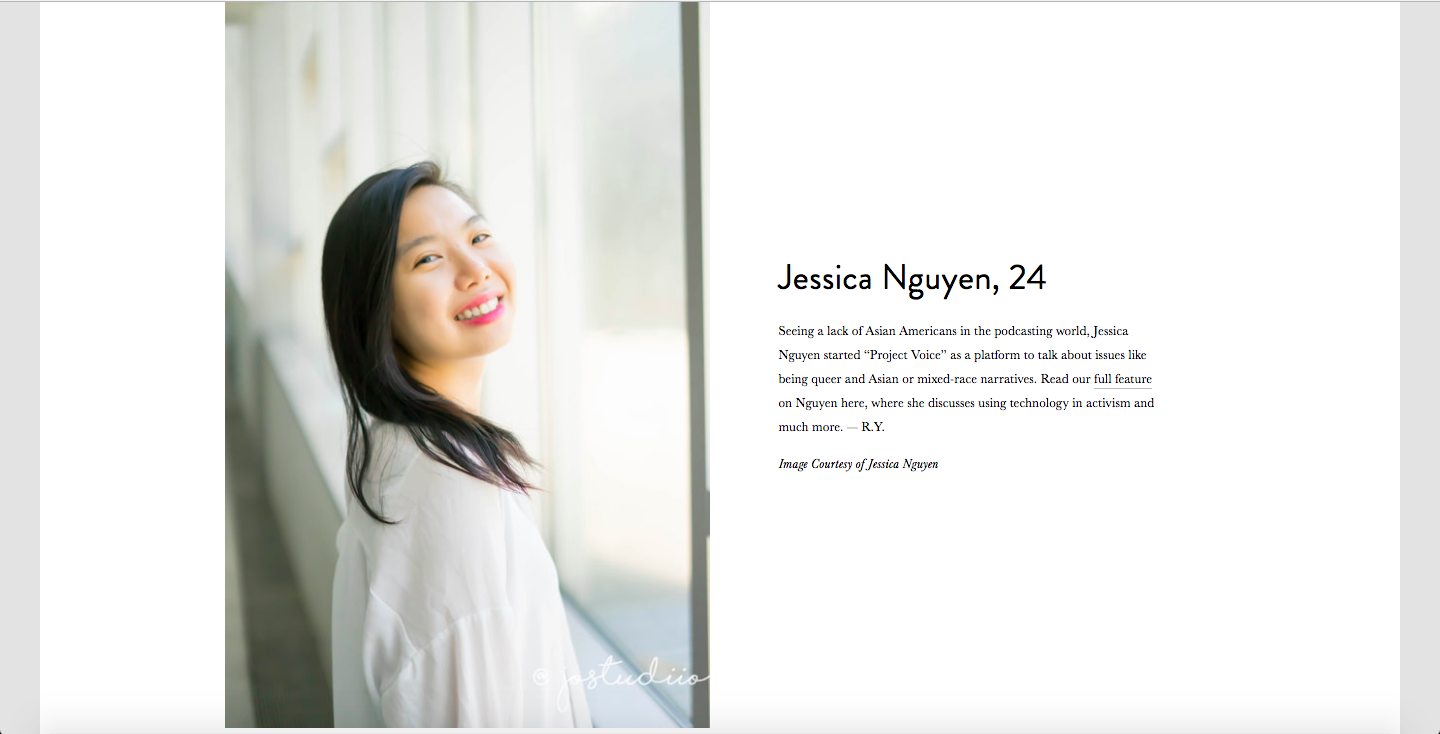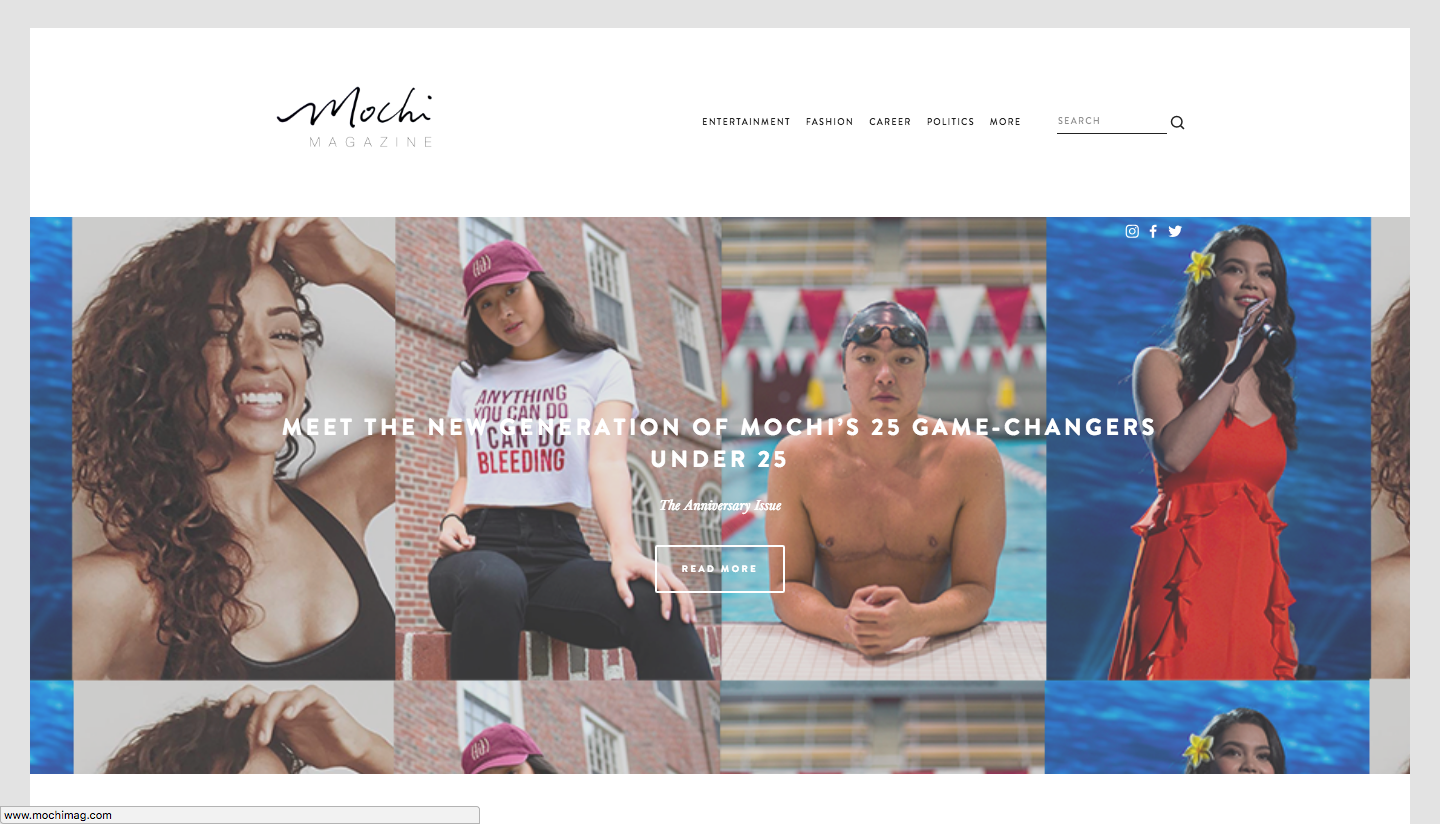 Meet The New Generation of Mochi's 25 Game-Changers Under 25
Jessica Nguyen Amplifies Asian and Asian American Voices Through Her Inspiring Podcast, "Project Voice"
"It's been 3 years since we published our list of 25 game-changers under the age of 25. Since then, so many Asian Americans we've featured have continued doing great work, and there are, of course, new faces making waves. One of the our goals for the 2018 list was to celebrate more Asian Americans who are often underrepresented within our communities, including non-binary individuals and South Asians. While we've noticed more Asian Americans on the big and small screen, so many of them are creating their own content and leading the pack in digital media."
iTunes: Asian & Pacific American Voices
"For generations, the cross-pollination between Asia, the Pacific Islands, and the U.S. has cultivated a vibrant mix of cultures. Stories about food, art, family, music, and religion provide great ingredients for fascinating podcasts. From Code Switch—which explores issues of race and identity—to The Dave Chang Show, where the Momofuku chef engages celebrity guests in captivating conversations, we've gathered a little something for everyone."
Smith College: The Power of Shared Experience
"Smithies are notoriously adept at seizing opportunities, which is exactly what Jessica Nguyen '16 did when she was still a student. While taking a digital media production course, Nguyen, the daughter of Vietnamese immigrants, realized there were few safe spaces online for Asian American women to connect, share their stories and access resources regarding identity politics and social-justice issues. The concept for Project Voice was born."
Smith College Spring Symposium: Empowering Voices - AAPI Power Through Media
"Empowering Voices: AAPI Power Through Media, co-hosted by Smith College Asian Students Association, Vietnamese Students Association, and Pan Asians in Action, provides a platform on campus for Asian American and Pacific Islander voices, bringing light to issues about identity. Content creators Sahra V. Nguyen and Jessica Nguyen use various mediums to raise awareness of AAPI identity and how it intersects with traditional cultural values. They will speak on how to challenge stereotypes, break away from a minority status, reclaim individual identity, and redefine what it means to be Asian American."
"Project Yellow Dress (PYD) grew out of a desire to create a platform for the Southeast Asian diaspora to have a voice and to build community through our shared heritages and histories. The name is inspired by the yellow dress our main character wears in our future children's book about the Vietnamese Boat People experience."
"Asians Doing Everything recognizes and celebrates the work being done by Asians and Pacific Islanders around the world. We transcend the roles often given to us by popular media; we're not just doctors, sidekicks, and nail salon owners...although we are those too. We pursue an infinite variety of jobs. But we are also passionate about things not connected to a paycheck. This blog seeks to uncover how we operate as striking, multifaceted, and global movers and shakers within our communities and economies."
A Day in the Life of Project Voice's Jessica Nguyen: #Unapologetic Asian
"As part of Asian American Millenials Unite's #UnapologeticAsian series, we are spotlighting how the modern AAPI activist spends their day. To launch this facet of of this series, we're featuring Jessica Nguyen - the mind and brains behind the Podcast series, Project Voice."
Til Six: Jessica Nguyen + Project Voice
"Six Things is a boutique brand strategy and user experience design firm with offices in Boston, Boulder and Los Angeles. Owned and operated by a small team of early-stage venture experts, we work with companies of all sizes to design, prototype, test and launch delightful products and services.
We sat down with Jessica, digital content creator and founder of Project Voice, to discuss the power of representation, Moderated Radicalism and the words 'thank you."
RAD ASIAN GIRLS: A Panel on Art, Race and Gender at Northwestern University
"Join APAC for our FREE spring speaker event! We will be welcoming Olivia Park of Sad Asian Girls art collective for a workshop (details below), followed by a panel discussion with Park, Jessica Nguyen of Project Voice, and artist and writer Larissa Pham. They will be discussing how they use art and media as outlets for political and social activism. Come through to meet these RAD ASIAN GIRLS.
APAC is a sociopolitical organization which focuses on AAPI advocacy and throws a number of events throughout the year. One of APAC'S biggest events is Spring Speaker; their most recent past speakers include Kina Grannis, Wong Fu Productions, and acts of similar caliber."
The Tao of Self-Confidence with Sheena Yap Chan Ep. 350
"Jessica used to have a hard time sharing her voice since she was not able to communicate in English in the beginning. It held back her confidence to speak her voice. After learning to express herself through writing and creating her podcast, Jessica is now more confident on sharing her voice and mission to the world.
This will also be the last episode for Season 2. The Tao of Self Confidence will back for Season 3 on September 1, 2017. In the meantime, enjoy past episodes of amazing women's journey to self confidence."